Springs
Welcome to the perfect world!
A spring is an essential part of the motorcycle. It has to keep the motorcycle, with rider, passenger, luggage in the correct riding position and keep the wheels in contact with the road, while shifting up, while braking, while cornering, on the straight, in short, in every circumstance.

During those circumstances, the need of the rate of the spring in ideal situation is changing continuously.

Therefore Hyperpro designed the rising rate progressive springs. Not only for the front fork, but also for the rear suspension. Using the correct springs gives you better a balance and control, a shorter and more controlled braking distance, an improved bump absorption, better load capacity and the possibility to adjust the ride height of the bike.


HYPERPRO springs give you
shorter braking distance
better balance of the bike
more comfortable riding, even with passenger
easier cornering
dramatically improved tire life
more grip in dry or wet weather
more confidence; it makes your ride more comfortable and/or faster
overall sense of confidence in the bike
SAFETY and CONTROL
our products are KBA/TÜV/GTU approved
Our products are supplied in "plug and play" kits including all information to install and adjust the suspension of the specific motorcycle… your motorcycle!
Front Fork Spring Kit
The Hyperpro front fork springs are mainly progressive to give the best performance.
The progressive spring kit comes with:
- front fork spring(s)
- fork oil
- installing manual together with setup data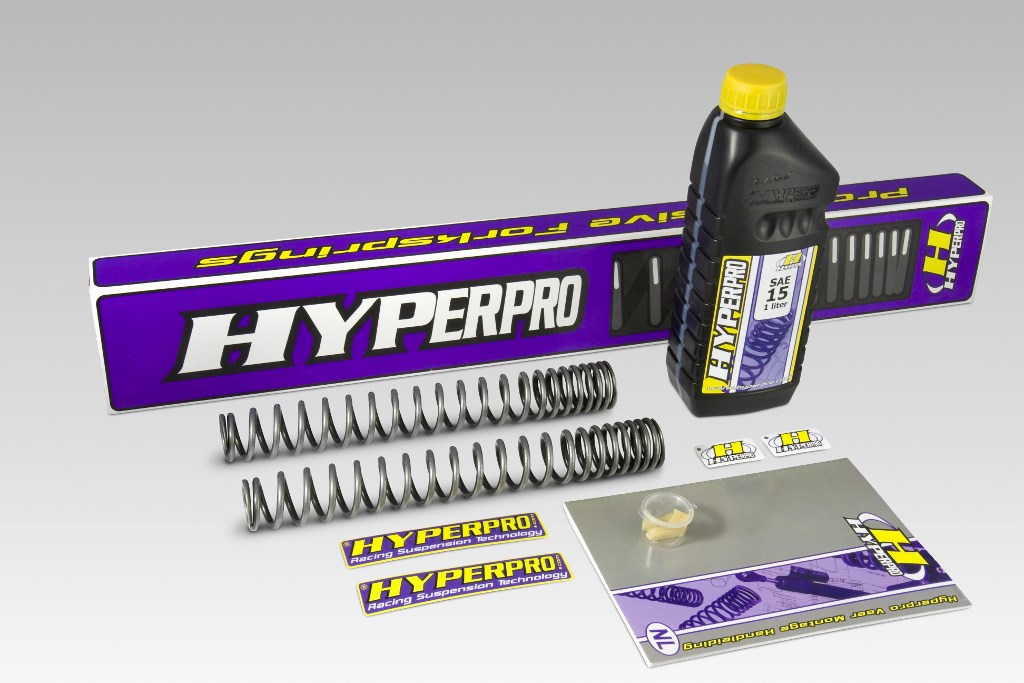 Rear Shock Spring Kit
The Hyperpro shock spring is designed to fit on the OEM shock and replaces the OEM spring to fit your needs.
The rear shock spring kit comes with:
-rear spring (available in purple or black colour)
-installation manual together with setup data