INTERMOT NEWS: Hyperpro BMW ESA Shock absorber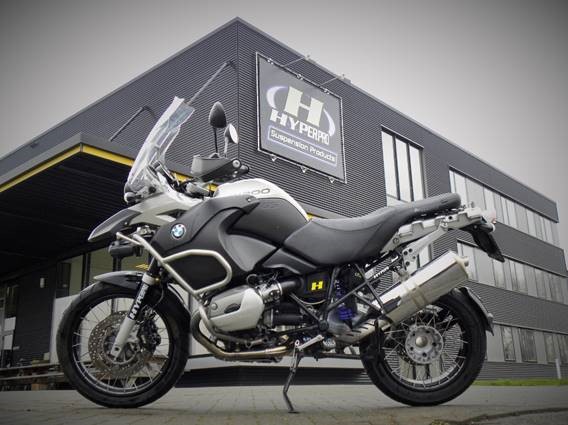 The Dutch Suspension specialists from Hyperpro introduced their brand new Hyperpro BMW ESA shock absorbers for all BMW R1200GS and R1200GS Adventure models till 2013, equipped with the BMW ESA system. Suitable for both WP and Showa systems.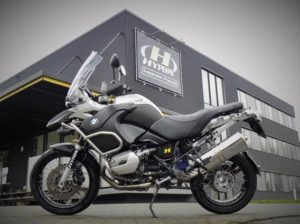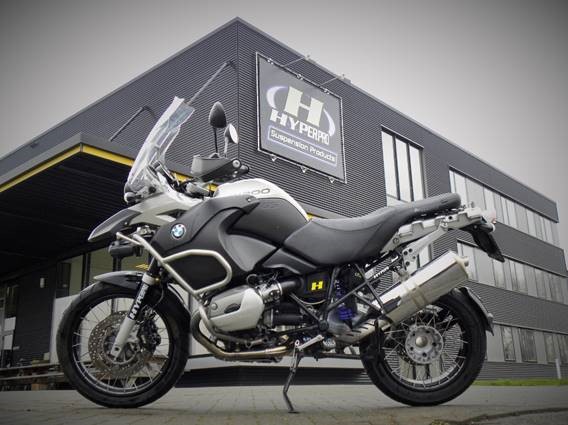 As these motorcycles get older, the OEM shock absorbers will show some issues where a replacement is needed.  Issues like non-functioning ESA adjustment as a result of a damaged adjustment motor, too soft springs, lack of damping or other needs of the rider, should be solved.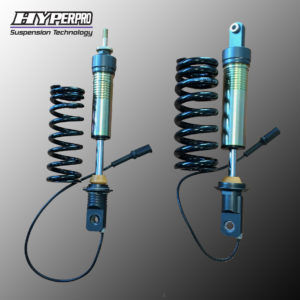 Hyperpro is offering a serviceable front and/or rear shock, using the 460 emulsion damper as a basis. The shocks are equipped with a stronger ESA stepper motor, waterproof connectors, an improved damping setting, a progressive black or purple spring and is "plug and play" to connect to the BMW ESA system. The Hyperpro ESA shocks make use of the original preload adjustment.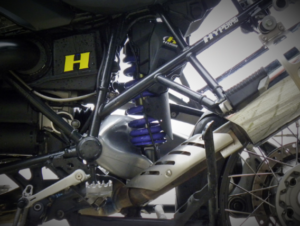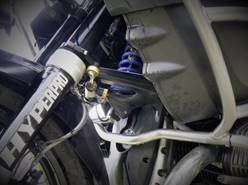 This solution is offering the rider a better balanced bike which is more stable and comfortable to ride as a solo rider or as two up rider with or without luggage.
Price will be 899,- euro ex VAT per shock 
Find the correct partnumber in the sheet below:
| | | | |
| --- | --- | --- | --- |
| MODEL | year | reference | info |
| R 1200 GS (Front) ESA, SHOWA Shock | 7-Jul-10 | BM12+0EBSXHS | replaces OEM shock  7 707 358 / USE OEM ESA HPA |
| R 1200 GS (Rear) ESA, SHOWA Shock | 7-Jul-10 | BM12-0EBSXHS | replaces OEM shock  7 707 359/ USE OEM ESA HPA |
| R 1200 GS (Front) ESA, WP Shock | July10-12 | BM12+0EBSXHW | replaces OEM shock  7 728 208/ USE OEM ESA HPA |
| R 1200 GS (Rear) ESA, WP Shock | July10-12 | BM12-0EBSXHW | replaces OEM shock  7 728 209/ USE OEM ESA HPA |
| R 1200 GS Adventure (Front) ESA, SHOWA Shock | 7-Jul-10 | BM12+0EASXHS | replaces OEM shock 7 702 732 / USE OEM ESA HPA |
| R 1200 GS Adventure (Rear) ESA, SHOWA Shock | 7-Jul-10 | BM12-0EASXHS | replaces OEM shock 7 702 730/ USE OEM ESA HPA |
| R 1200 GS Adventure (Front)ESA, WP Shock | July10-13 | BM12+0EASXHW | replaces OEM shock  7 728 210/ USE OEM ESA HPA |
| R 1200 GS Adventure (Rear) ESA, WP Shock | July10-13 | BM12-0EASXHW | replaces OEM shock  7 728 367/ USE OEM ESA HPA |
More info? Check www.hyperpro.com/where-to-buy/  or contact us at info@hyperpro.com