Hyperpro Classic Racing Team op Bikers Classic, Spa Franchorchamps
With Albert den Hartog as team owner and rider of the Hyperpro Classic Racing Team. In 2012 champion in the SAM race demo class with the Honda CB 350 Four, he is now for the 2nd time on the legendary circuit of Francorchamps.The Bikers classics are some super race days, where famous classic motorcycles and riders are fighting on a sophisticated, though fanatical way for the podium. As a visitor you have easy access to this racing event and is well worth to visit. Text of bikersclassics.be says it all.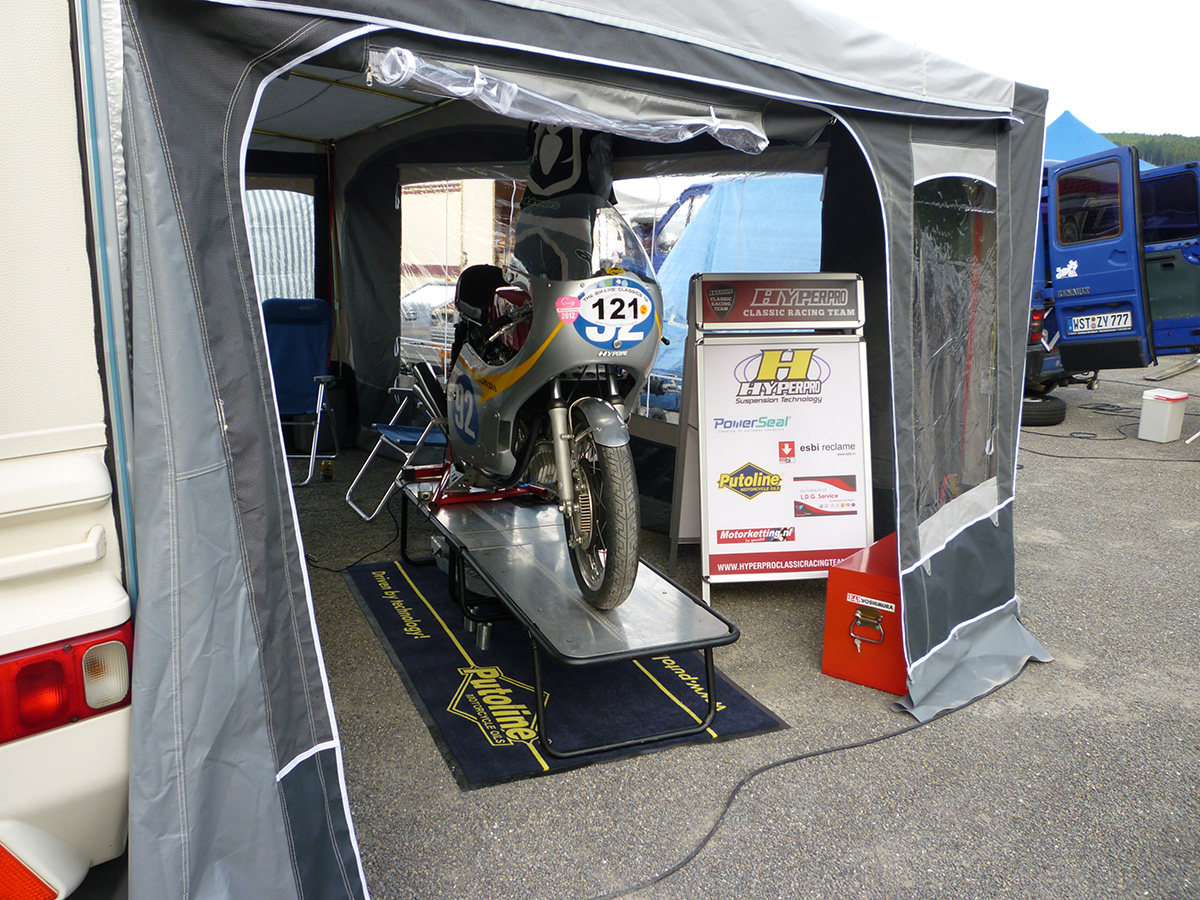 Classic bikes are more than ever a magnet for many enthusiasts. Our passion for the time when this incredible racing power happened, is the driving force behind our Bikers' Classics. For years already we are fascinated by the exceptional performance of the greatest champions and their legendary machines and we are extremely proud to be able to revive and to share our enthusiasm. It's been eleven years since we our Bikers' Classics launched and although we secretly dreamed about it, we didn't expect our initiative would be the European reference of this discipline.
Our continuous investment, our invitations facing the greatest pilots, the quality of our organization, all this allows us to maintain over other similar organizations in France and England.
The fact that the Bikers'Classics continue on the circuit of Spa-Francorchamps is is part of this. Of all circuits this is certainly the most mythical: it has dreams for many generations of pilots and spectators. A victory at the track in the Ardennes was a must on the record of any good pilot and often even the apotheosis of his career. The circuit has of course been changed since then to meet the new safety standards, but the atmosphere is still the same.
Eleven years already the greatest champions of all times, go side by side during the many parades and more than six hundred pilots (again) on the circuit in the saddle of their finest and best restored machines.
From 5 to July 7, 2013, to admire their wonderful machines. Legendary champions will again broach the Raidillon and will experience you the raw sound of the four strokes and the cry of the two strokes resound again.
You can explore this legendary machines and many other classic beauties in all peace in the paddock of Francorchamps
www.hyperproclassicracingteam.nl