Historic Five for Gulf Oil Dragracing
Litlington, Cambridgeshire, UK, 4th July 2013 Following Gulf Oil Dragracing – Grand Prix Originals team rider Ian King's event win at the first race of the season and his brace of personal best 60 foot times of 1.02 seconds on the new and green Santa Pod surface they headed to the world class Tierp Arena in Sweden with some expectation.
With a reasonably dry forecast for the weekend the team of Michael Beaumont, Marius van der Zijden, Martin Brookman and Nick Pepper had a great opportunity to build on their new tuning strategy developed in the last weeks since the geometry changes had proved to be a success.
And qualifying day one started off on a high with a stout qualifying pass of 6.04 seconds that put King immediately into the number one qualifying position at the end of the day and set his new personal best elapsed time and bumped his some way up into the global quickest runs of all time.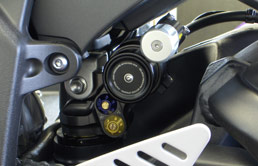 However even this new mark was superseded in the first round of eliminations when King ran a history making 5.98 second pass in the first round of eliminations against Czech rider Otto Knebl (also Puma Yamaha) to become the first ever rider from the UK to run a sub six second standing quarter, and only the second rider ever to run this quick outside of North America.
With the laws of Physics in mind this was almost certainly the last ever significant boundary available to a wheel driven machine and forever records the team in the history books of UK motorsport.
Despite losing their semifinal when the power of the 1500HP Puma Yamaha proved even too much for the high level of traction available the team left the event happy knowing that they would forever be an answer to the question in dragracing pub quizzes in the future as to which UK team ran the first ever five second pass……!
A video of the historic pass taken from King's helmet mounted camera can be seen by clicking here – https://bangshift.com/blog/video-ride-along-on-a-helmet-during-a-5-98-second-quarter-mile-nitro-drag-bike-pass.html
The team now moves onto the second round of the European Dragracing Championship in Alastaro, Finland in their quest to defend their number 1 plate and secure a potential seventh Championship Crown.The team will defend their FIM European Dragracing Championship crown and selected invited events across Europe in 2013
FIM European Drag Bike Championship
Round 2 – Alastaro (Finland), 4th-7th July
Round 3 – Hockenheimring (Germany), 9th-11th August
Round 4 – Santa Pod Raceway (UK), 5th-8th September
Goodwood Festival of Speed
Goodwood (UK) 12th – 14th July
The Gulf Oil Dragracing team uses and endorses exclusively Gulf Oil greases and lubricants in their history making machine and make use of Hyperpro Suspension Technology. Photos courtesy of Stefan Boman